About Us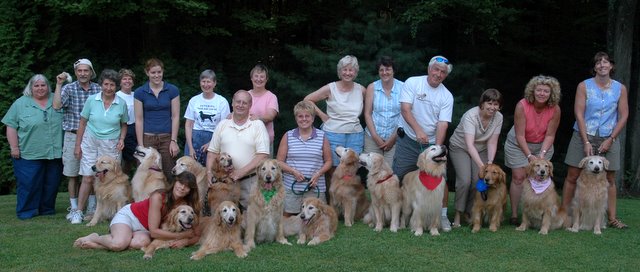 Annual Picnic with Senior Dogs 2007
Our members are active in Confirmation, Obedience, Agility, Field, Tracking and Therapy Dog work. We also host meetings, matches, shows, seminars and fun days throughout the year. Please check out the Calendar page and join us at one of our events. Our recurring events are described below.
Annual Meeting – This meeting is held on the 1st Wednesday in January. It is a Pot Luck party for the entire membership. On this night there is no Business Meeting but we do vote in our new Officers with members receiving trophies for their accomplishments during the year!
Meeting Programs – During Club meetings there are special invited guests that speak on a variety of topics. We have heard from Veterinarians, Search & Rescue Groups and Obedience Trainers to name a few. There has been information on grooming, nutrition, responsibilities of dog ownership and how to find your pet if it becomes lost. Club meetings are held on the 1
st
Wednesday of each month at Asnuntuck Community College on Route 220 in Enfield, CT at 7:30 PM unless otherwise noted in the Club
Calendar
.
Fall Match – CRVGRC holds one B-OB Match, in November. The Match is held to meet AKC requirements, educate the public on Golden Retrievers and allow individuals to practice breed and obedience training. The "B" stands for Breed which is also known as Conformation and only Golden Retrievers are allowed to enter these classes. CRVGRC is a Specialty Club which means we are solely for Goldens. The "OB" stands for Obedience and AKC allows all breeds with the ability to enter these classes. Club members are asked to help in all aspects of the Match such as; handling the entries, stewarding (being a judge's assistant) in the rings, set up/take down of the equipment, etc. All dogs are able to come to the Match and socialize!!
Summer Picnic – The Club Picnic is held at a member's home sometime during the months of July/Aug. The picnic is the "Summer" event for Club members and their Senior Goldens. A Senior Golden is eight years old or older! There is a Pot Luck picnic for members and a meatloaf cake for all the "Seniors"!!
Springfield Kennel Club Supported Entry - The Club participates in a Golden Retriever Supported Entry during the Annual November All-Breed Show sponsored by the Springfield Kennel Club in Massachusetts. CRVGRC supports the host club by talking with the public and providing trophies for Goldens in the Breed and Obedience competitions.
CT River Valley Specialty Show - CRVGRC holds a March Specialty show in conjunction with the New England Sporting Group Association (NESGA). This show highlights all the AKC Sporting breeds in the dog fancy. During this show weekend, CRVGRC has its Specialty show on Saturday and a Supported Entry on Sunday. This event showcases the sporting breeds as hunting dogs so the shows include a Gun Dog class to honor those dogs that continue its heritage today.
Fun Day – Fun Day is held during October and is held at a member's home. This day is for all members and their Goldens and there is a pasta dinner! For our Goldens there is a chance to try agility, obedience, "bobbing for apples" and field work. A Tattoo Clinic is often held at our Fun Day allowing your Golden to be tattooed and registered with a national organization in case it is ever lost.